These five judges will choose the 1st, 2nd, and 3nd place awardees from among the finalists at the live Postdoc Slam event on September 19, 2019. See also the screening judges who will review initial video entries and select the finalists.
---
Eric Evans, PhD, is chief scientific officer of Myriad Women's Health in South San Francisco. Eric co-founded Counsyl and served as CSO until its acquisition by Myriad Genetics. Counsyl was a molecular diagnostics company focused on women's health, including prenatal genetic testing and oncology. More than one million patients have received a Counsyl diagnostic test. Eric obtained his BS in Biology from the University of Delaware and then completed his PhD training in Genetics at Stanford where he was a Stanford Graduate Fellow and NSF Graduate Research Fellow. 
B. Joseph Guglielmo, PharmD, is dean of the UCSF School of Pharmacy, assistant director of Pharmaceutical Services for the UCSF Medical Center, and holds the Thomas A. Oliver Endowed Chair in Clinical Pharmacy. Guglielmo earned a doctor of pharmacy degree from the University of Southern California, and then joined the UCSF School of Pharmacy in 1979 after a UCSF residency in pharmacy practice. He is a nationally recognized expert on the use of drugs to control infection, and his research has been widely published in professional journals.
Moira Gunn, PhD, is an associate professor at the University of San Francisco, where she teaches classes on the legal, ethical and social implications of biotech, as well as educating on information system design and analysis. She is a former NASA scientist, engineer and software programmer, and is internationally recognized for her work with global biotechnology business and emerging global information systems. Gunn is also the host of Tech Nation – with its regular segment BioTech Nation – a weekly public radio program featuring conversations with noted technology and science leaders. She was the first woman to earn a PhD in mechanical engineering from Purdue University.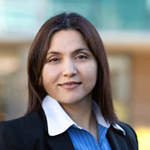 Sara Kenkare-Mitra, PhD, is senior vice president of development sciences at Genentech, where she leads the group that is responsible for the successful translation of every drug developed in Genentech's Research and Early Development organization from discovery to launch. She earned her PhD in pharmaceutical chemistry from UCSF, and is also a UCSF postdoc alum. Kenkare-Mitra was named one of the Most Influential Women in Bay Area Business by the San Francisco Business Times, and was the UCSF Graduate Division's 2018 Distinguished Alumnus of the Year.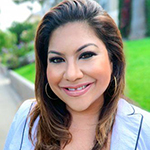 Francesca Vega is UCSF's new vice chancellor for Community and Government Relations, in which role she serves as a member of the Chancellor's Cabinet. Previously, she was assistant vice president of California State University Northridge (CSUN). Throughout her 18-year career in community and government relations, she has made it her mission to strengthen communities through advocacy, public policy, community outreach and mentoring efforts. A first generation college graduate, Vega earned a BA in government with a minor in sociology from California State University in Sacramento.