The Scientific Leadership
and Management Skills Course
Update June 24, 2020: Given the COVID-19 pandemic, we are in the process of identifying when the next in-person or virtual session will occur. Please check back often to this webpage for updates.
The SLMS Course provides 16 hours of training and is targeted at senior postdocs, clinical research fellows, and junior faculty. The Course is recommended for those who are about to lead research groups in an academic environment or those who have just begun to lead. It's modeled after the successful course designed by Howard Hughes Medical Institute and makes use of the HHMI publication Making the Right Moves: A Practical Guide to Scientific Management for Postdocs and New Faculty. 
Course topics include: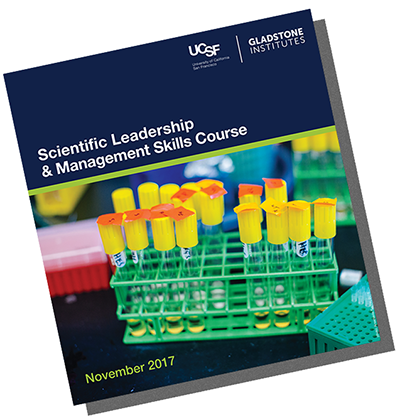 Introduction to the Myers-Briggs Type Indicator
Using MBTI to Improve Performance
Influencing Others: Motivating, Managing Conflict, "Leading Up"
Vision: Advancing Your Research Program
Staffing Your Research Group: Recruiting the Best
Managing Your Time Effectively
Influencing Others: Difficult Conversations and Negotiations
Goal Setting
---
Applying for the Course
Applications for the next course will be annouced here at a to be determined date.
Priority is given to first to UCSF and Gladstone postdocs, then junior faculty in the basic sciences, and finally clinical research fellows
See selection criteria and key dates below
Please note:
Applicants must be available to attend the entire course, all day both days.
Applicants must be willing to complete the course work. About one hour of pre-course effort is required of successful applicants. Additionally, about two hours of homework effort will be required in the week between the two days of the course.
Registration Fees* 
The course registration fees cover course materials, meals, and an individualized MBTI report. Applicants who are accepted can pay for the course online. You may be able to charge fees to your department or a grant, including training grants or fellowships. A limited number of scholarships may be available for UCSF postdocs who have no means to pay for the course. 
$95 for UCSF postdoctoral scholars
$250 for UCSF clinical research fellows
$275 for UCSF faculty members
$400 for eligible registrants not affiliated with UCSF
*Fees subject to change.
Important Dates for 2019
Dates from the 2019 course are provide below for your planning purposes. The schedule for the 2020 course will follow a similiar timeline to that of 2019.
Friday, January 14, 2019: Application period opens
Friday, February 22, 2019: Application deadline at 11:59 p.m. (completing the online form takes 5 – 10 minutes)
Friday, March 1, 2019: Applicants are notified of the decision via email
Friday, March 1, 2019: Course registration opens
Thursday, April 4, 2019: Deadline to register and pay for the course
Thursday, April 4, 2019: Deadline to complete Myers-Briggs Type Indicator (MBTI) (less than one hour of effort)
Wednesday, May 1, 2019: Day 1 of the course, 8 a.m. - 5 p.m.*
May 2-7, 2019: Homework to prepare for Day 2 (about two hours of effort)
Wednesday, May 8, 2019: Day 2 of the course, 8:30 a.m. - 5 p.m.* (plus reception 5 - 6 p.m.)
*Please do not apply for the course unless you can attend both days, all day. If you are admitted to the course, you will be asked to register and pay for the course in a separate process.

Selection criteria:
Each year, we have more applicants for this popular course than we have slots; therefore, we may not be able to accept everyone who applies. While exact selection criteria vary according to the number of applications we receive in a particular year, we generally give priority to those who carefully, but briefly describe why they want to take the course. Preference is also given to applicants who need the course most urgently, including:
Postdocs/Clinical Research Fellows with seniority (those who might not be here to take the course in fall 2020) 
Postdocs/Clinical Research Fellows who have an academic or industry job offer (starting up a research group shortly and therefore need this course material now) 
Junior faculty (those who have recently started up a research lab and need the course material now)
Clinician scientists: priority is given to those who spend a significant portion of their time conducting research.
For additional information about the SLMS Course, including the application process, contact us at [email protected].
---
The 2020 Course in Scientific Leadership & Management Skills is sponsored by:  UCSF Program for Breakthrough Biomedical Research, funded by the Sandler Foundation; Gladstone Institutes; UCSF Office for Postdoctoral Scholars; UCSF Office of Career & Professional Development; and UCSF Graduate Division.