The Scientific Leadership and Management Skills Course
Update December 2021: This course is not offered currently. Please check back here for updates for on any future offerings.
The Scientific Leadership and Management Skills (SLMS) Course -- targeted at senior postdocs -- is recommended for those who are about to lead research groups in an academic environment. It's modeled after the successful course designed by Howard Hughes Medical Institute and makes use of the HHMI publication Making the Right Moves: A Practical Guide to Scientific Management for Postdocs and New Faculty. Course topics include: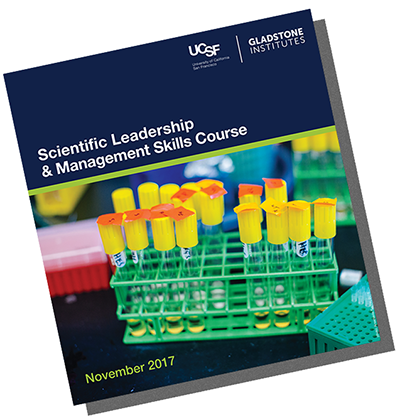 Influencing Others: Motivating, Managing Conflict, "Leading Up"
Vision: Advancing Your Research Program
Staffing Your Research Group: Recruiting the Best
Managing Your Time Effectively
Influencing Others: Difficult Conversations and Negotiations
Goal Setting
---
Applying for the Course
Applications for the next course will be announced here at a to be determined date.
Priority is given to UCSF and Gladstone postdocs.
For additional information about the SLMS Course, contact us at

[email protected]

.
---
The 2019 Course in Scientific Leadership and Management Skills was previously sponsored by: UCSF Program for Breakthrough Biomedical Research, funded by the Sandler Foundation; Gladstone Institutes; UCSF Office for Postdoctoral Scholars; UCSF Office of Career and Professional Development; and UCSF Graduate Division.